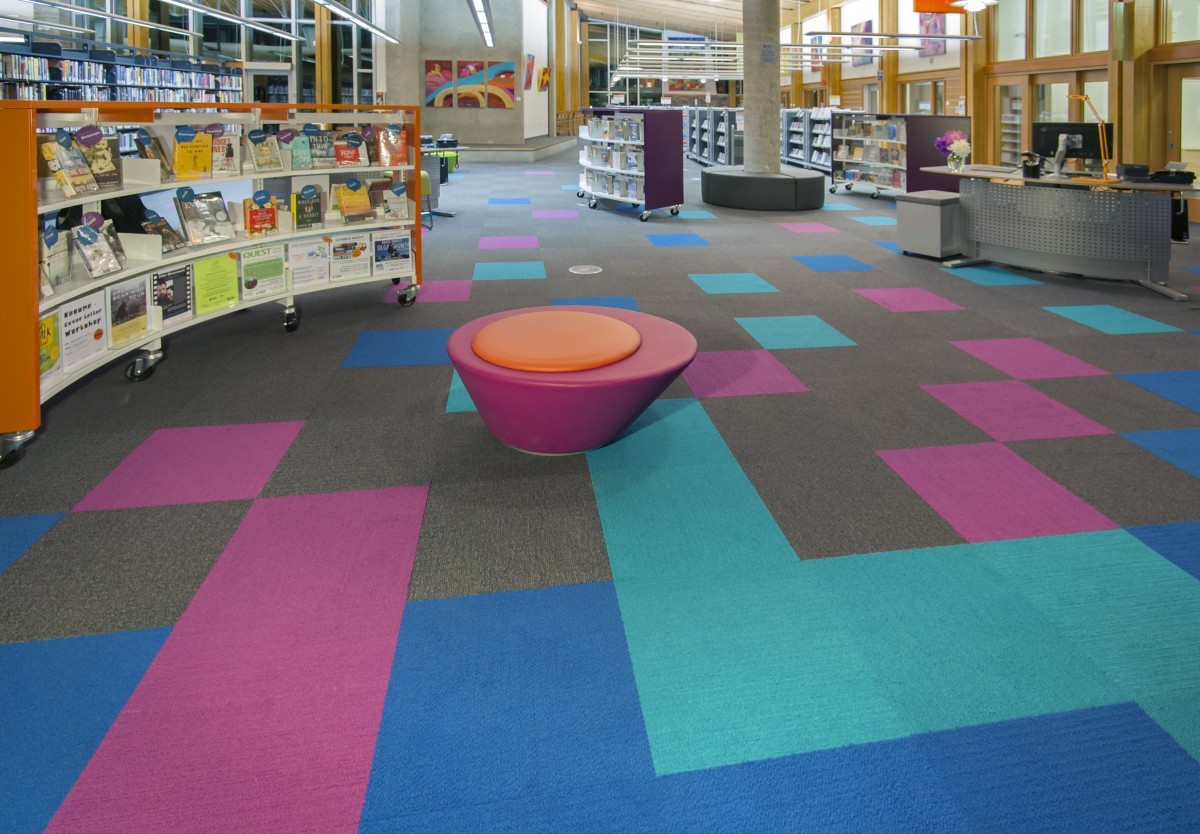 10 Jun

The Impact of Carpet Tile

The carpet tile in the Whistler Public Library is a great example of how this material can be used in a unique and exciting way. In this project, JM&C designers were tasked with creating a barrier-free space that would better serve the library patrons. "Barrier-free", as defined in the Building Code, means that a building and its facilities can be approached, entered and used by persons with physical or sensory disabilities. The addition of the colourfully blocked carpet tile provides a focal point that does not impede anyone's ability to move through the space, but rather assists patrons in way-finding.
Wayfinding refers to information systems that guide people through a physical environment and enhance their understanding and experience of the space. These colourful carpet tiles are more concentrated near the entry of the library and they successfully lead people into the space by catching their attention. They gradually disperse throughout the other areas of the library, which encourages patrons to move inwards at a slower and quieter pace. The interior architecture of this building provides a lot of interest to the space, but the floor plane was otherwise vastly bland. JM&C designers took care in this space to ensure that the flooring evoked the feeling that the client requested.
Besides the visual appeal to carpet tiles, there are also environmental and financial benefits to them. If something irreversibly damages a tile, it can easily be removed and replaced. This is a much more cost-effective solution compared to traditional carpet because the entire floor does not require removal which, in turn, also produces less waste. There are eco-friendly tile options that are manufactured in a healthier way and these will naturally have fewer off-gassing emissions upon installation.
There are many benefits to installing carpet tile in public spaces and the colours are endless! Please contact us to find out how they can improve your interior.