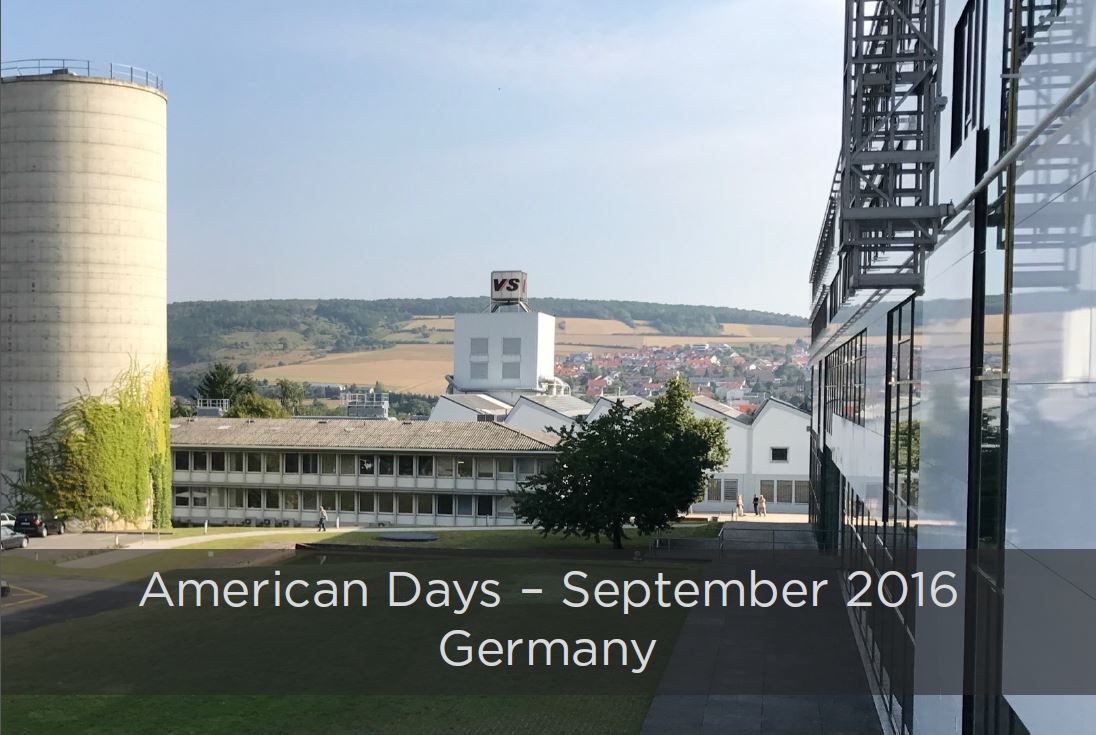 03 Jan

JM&C Went To Germany!
JM&C had the chance to travel to Germany for VS America's "American Days" gathering!
In September of 2016, we had some of our team head over to Germany for the "VS American Days," where we got a full briefing from some of the designers, CEO's, and many other speakers about VS America's furniture lines, and their concept of 21st century learning. We were shown the evolution of VS America, which included the very first designs of the school furniture they started off selling way back in 1890.
We heard from our friend David Stubbs, who spoke to us about his designing of the Shift+ furniture line. He also showed us what he had learned from simply observing students and teachers and he was able to come up with the conclusion that the classroom could be completely redesigned with a far more efficient layout for the benefit of both students and teachers.
We went on a tour of the factory where the CEO of VS America showed us how the factory was being run with classic "German efficiency." What was very interesting to us and probably stood out the most, was how he demonstrated the durability of their furniture. He did a demonstration to show us how the desk tops were created with very high pressure. He took a large metal tube and hit it on the desk with full force. Surprisingly it didn't leave any mark on the desk. He then handed the tube to the strongest-looking fellow on the tour and he proceeded to hit it on the desk. Same thing, no marks! This proved to us how indestructible this German engineering really was, and how good quality furniture is a necessity for schools!
What The Future Has To Hold
We continue to proudly support this brand and sell it every day to our amazing clients. We hope to grow our relationship with VS America in the upcoming years, and being able to attend the VS American Days was an exceptional learning experience. Thanks to all the staff at VS for being so accommodating and hosting such a great program for all of us! We hope to see you all again very soon!