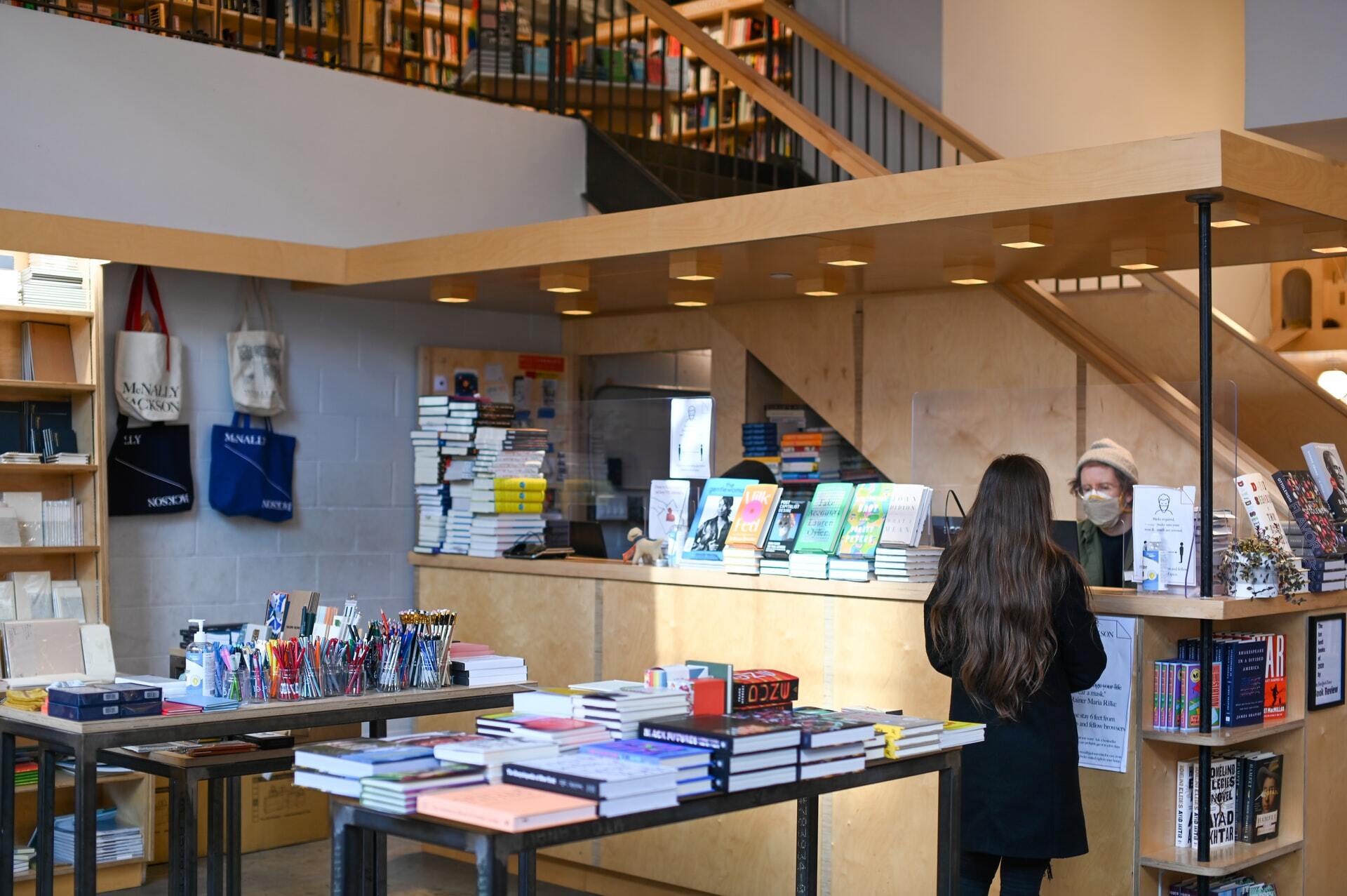 04 Mar

5 Tips on Creating Safe, Distanced & Productive Libraries

Libraries and spaces of learning are reopening throughout Canada, with schools, colleges and universities preparing for reopening in September. With this in mind, JMC Design have shared 5 essential tips for creating safe, distanced & productive libraries in a post-Covid world.

Learning is a concept which relies on social interaction, a sense of togetherness and the ability to communicate and exchange knowledge. However, public health requirements have made this nearly impossible, with social distancing requirements transforming our expectations of libraries and educational spaces. Despite the challenges of today, there are a number of steps that can be taken to make your library's 'new normal' as normal as possible.

In the following 5 steps, we show how some basic approaches can facilitate safer library spaces.
1. Consider Safe Curbside Collection
Traditional library services have been heavily reliant on physical contact. From handling books to scanning library cards, these spaces have faced unique challenges as a result of the pandemic. However, there are some quick & easy ways to lower the risk of Covid and to make your service as 'normal' as possible – including setting up a safe curbside collection service. 
Here at JMC Design, we recommend investing in smart, secure and mobile storage – just like our Smart Lockers – available in adequate dimensions and specifications for storing books, featuring one-time combinations that can be sent when orders are ready for pick up. Whilst codes are easily programmable; librarians can use them to create benches, collaboration tables or to fill the locker with books for their clients.

2. Clean Smart, Clean Often
Libraries are major breeding grounds for dirt, dust and other harmful pathogens. With this in mind, it's essential that all spaces in your library receive special care and attention – even more so than before the pandemic. This means giving close attention to areas of high footfall, applying antiviral cleaners to any areas that involve physical contact (think handrails, doorknobs and any other communal aspects of your library.
It's also important to make careful choices around your furniture selection, prioritising materials that are easily cleaned with antibacterial and antiviral. Here at JMC Design, we're proud to offer a comprehensive range of non-porous, easily-cleaned pieces of furniture – including some sensational pieces from JMC Furniture, Monarque & Furniture49. Another useful tip here is to consider furniture that is easily stackable, allowing more efficient cleaning processes and enhanced social distancing as and when required.
3. Create a Plan for Space, Foot Traffic & Hygiene
Social distancing is set to go on for the foreseeable future. However, the show must go on for libraries. By establishing social distancing plans and enforced lanes for foot traffic, librarians can ensure their library stays open and at a reduced risk of contamination from Covid-19. JMC recommends establishing firm social distancing plans by including 6-foot/2-metre distancing floor markers across all of your available floor space. Ensure your distancing policy is visible by including infrastructure like roller banner displays, posters and flyers at key locations across your library.
Secondly, you'll want to ensure your library encourages the highest possible levels of hand hygiene, and there are a number of ways to achieve this. Whilst you can take simple steps like including hand sanitiser bottles at your entrance, you can take this further by installing pedal-operated soap dispensers, or wall mounted soap dispensers throughout your space. Regardless of your choice in this instance, it's essential that library staff wash hands thoroughly before and after handling recently-touched books.
4. Create Protected Reading & Learning Zones
Libraries are intended as comfortable places for social, enriched learning. Whilst social distancing requirements complicate this idea, librarians can, with some effort, create flowing, relaxed and protected spaces. JMC Design recommends creating protected reading & learning zones that are distinctly separate from other parts of your library. Ensure that all seating and tables are sufficiently distanced to ensure that your space gives confidence to its user.
Protective infrastructure can also help create secure reading & learning zones. JMC's PureView screens provide a strong line of defense against viral spread via coughs and sneezes. What's more, these easily-cleaned products are fully adaptable, meaning they can be customised to fit virtually any desk. 
5. Interior Design for Enhanced Safety 
Some basic interior design steps can be taken to make your library a happier, safer and more productive space. For example – undertake a close review of your reception area and ask yourself how distancing and safety may possibly be improved. Consider redirecting services to other points in your library to avoid crowding and poor distancing at reception areas. 
Throughout these challenging times the flow of fresh air around your library should be increased, with a review of HVAC systems and the changing or upgrading of filters, standalone air filtration units and the opening of windows and doors. Consider underutilised areas that you can potentially expand shelving into, or rooms that can now be used for alternative storage space. In a nutshell, you'll want to open those less-used spaces like never before.
Create a Safe, Distanced Library with JMC Design
JMC Design brings together Canada's leading experts in interior design and furniture selection, creating happy, flowing and productive spaces for the 21st century. To find out how we can equip your library for the post-Covid world, get in touch today.